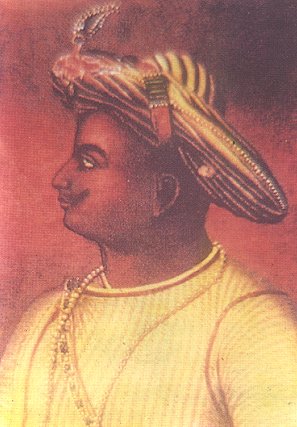 Childhood and Parentage
T
ippu was born in Devanahalli (in Karnataka) on Friday, November 20th, 1753. At the age of fifteen he used to accompany his father
Hyder Ali
, Ruler of Mysore State, to different military campaigns. He was a devout Muslim. He had a very inquisitive mind and fascination for learning. His personal library was consisted of more than two thousand books in different languages. Tippu was a man of simple habits, eating common food and leading pious life. He had a very dignified personality and impressed the people who came in contact with him. He was an extremely active man and worked from dawn to midnight for the welfare of his subjects. He himself drafted all his correspondence. He took over the kingdom after his father's death in 1782 A.D.
Fighting the British
He could foresee the (British) East India Company's design to get entrenched on Indian soil, and took a vow to foil it. For this purpose he negotiated with the French and sheltered the Frenchmen who preached the French revolutionary doctrines to the public. A "Jacobean Club" was established in Tippu's capital Srirangapattana, and the French tricolor was hoisted. He also sought assistance from the Amir of Afghanistan and the Sultan of Turkey. He had already defeated the British at Wandiwash in 1783. The British were very scared of Tippu's growing strength, and they formed an alliance with the Nizam of Hyderabad State and Marathas . The French deserted Tippu after signing of the "Versailles Treaty" in Europe in 1783 when the American War of Independence ended.
As long as the British fought alone, Tippu always defeated them. But he was no match for their diplomacy, conspiracy and intrigue. Thus he was defeated in his Capital of Srirangapattana, and forced to sign a humiliating treaty on March 22nd, 1792. As a result he had to concede half of his kingdom and pay an indemnity of thirty three million Rupees to the English and their allies. Frequent wars had drained his treasury, and hence he had no hard cash to pay this huge amount. He was compelled to pledge two of his sons to the conquerors. Governor General Conrnwallis took away these two youngsters to his headquarters in Calcutta in Bengal. However, they could not suppress Tippu's spirits for long, and he rebuilt his war machine in shortest possible time. He built a fine army and modernized his administration on the European model. He was an able and fearless military strategist.
Tippu's Government
He built a chain of excellent roads, and constructed tanks and dams to promote agriculture. He introduced the new industries, promoted trades and commerce, established factories in Cutch, Masquat, and Jedda, and sent commercial missions to Oman, Persia and Turkey. He invited foreign know-how to build factories to produce glass, mirrors and ship-building. He aimed at making his kingdom the most prosperous state of India. Hence he was also interested in latest scientific research all over the world. He introduced sericulture on a large scale, and mulberry cultivation was started at twenty one centers. He encouraged the textile industry by banning the export of cotton. The weavers from Tamilnadu were invited and settled in his kingdom. Growing of sugarcane and producing of sugar and candy were encouraged in Channapatna, Devanhalli and Chikkaballapur. High quality tempered wire required for the string instruments was produced in Channapatna. The livestock development got special attention. Tippu prohibited the production and distribution of liquor and other intoxicants in his state of Mysore.
Tippu Sultan adopted the tiger as his emblem. His throne was shaped like a tiger, carrying the head of a life-size tiger in solid gold (see also the boxed toy ). He was an enlightened ruler who treated his non-Muslim subjects generously. He appointed them to different positions of authority, and gave them complete freedom of worship. He conferred liberal grants to Sringeri, Srirangapattana, and Mangalore temples. He gave funds for the consecration of idols and presented them with gold and silver articles. He also encouraged arts like music and dance and learning in general.
Tippu's accomplishments and popularity among his subjects and in the neighborhood states were eyesore, for imperialistic designs of the English. Hence they decided to finish him once for ever. Fourth Srirangapatanna war came very handy to them to physically liquidate Tippu on May 4th, 1799. A small monument has been erected where his dead body was found. Tippu had a good collection of weapons, but a particular sword was his favorite. He fought his last war with the same sword. When he was critically injured, a British intended to snatch sway the weapon, but Tippu killed him with the same sword which he intended to possess! The victorious General Harris sent Tippu's war-horse, the palanquin, and a howdah to the king of Coorg who sided with the British. After confiscating most of the Tippu's territory, the famous sword was sent to London. This was brought back after India's Independence (1947), but was about to be smuggled out of the country when it was intercepted, and was retained in the country.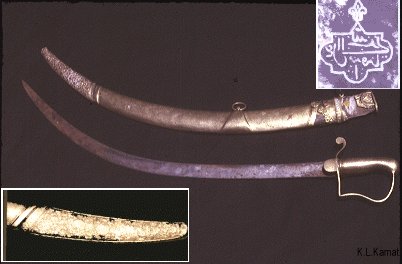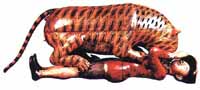 Tippu's Toy
The mechanical 'Tipoo's Tiger' was captured at Srirangapattana in 1799 and was exhibited at the East India Company's headquarters in Leadenhall Street. The tiger roars and the British officer screams.