Neo

Quiz Spot is a quizzing organization based in India.

Neo

Quiz Spot intends to improve the quizzing pattern among the commoners and aim at making learning more easier. This quiz is being provided to with an emphasis on the MBA preparing students. You can contact us at neoquizspot@gmail.com for any further queries.

Neo

Quiz Spot Team will be responding within 24 hours. For quizzes on SNAP,

IIFT

,

Civils

and other exams, keep visiting us.
Our quiz will be published every day at 10AM. So please check our blog after 10AM to see our daily updates.
1. Identify this duck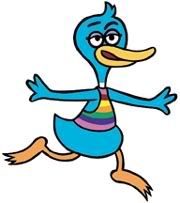 2. Which

Characters

middle name is
Fauntleroy?
Ans. Donald Duck. Well the idea of queer duck is

in fact

inspired from Donald
3. Murder of Ben Uncle inspired him to become a masked super hero and use his super human powers to help the world in becoming a better place. Identify this super hero.
4. "
Laird James

McCullen

XXIV" is the name of which famous fictional

villain

?
5.

Antman

,

Ironman

, Wasp, Thor are the initiating members of which famous superhero club?